Mystic Tibet: An Outer, Inner and Secret Pilgrimage – A movie with Lama Zopa Rinpoche

---
CATEGORY: Get together
LEVEL: Everybody is welcome
---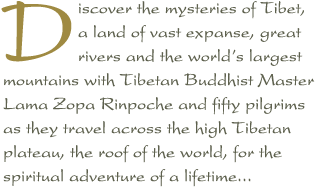 In 2002, Lama Zopa Rinpoche led fifty pilgrims from around the world on a journey to Tibet s most sacred places. Cinematographer Christina Lundberg caught this extraordinary pilgrimage on film, and the result is a stunning new documentary, Mystic Tibet: An Outer, Inner and Secret Pilgrimage.
Mystic Tibet vividly captures the grandeur and mystery of this life-changing journey. One feels intimately a part of the experience, seeing these holy places and holy objects that seem to live and breathe, enduring the hardships and receiving the blessings right along with the pilgrims. This film is a visual and spiritual treat for the eye, the mind, and the heart. Its evocative soundtrack with music by Nawang Khechog and Mercedes Bahleda is as much a part of the film as the extraordinary landscapes, intricate icons, and devoted faces not to mention the heroic Italian pilgrim who finished the journey on crutches! –Mandala Magazine: A Tibetan Buddhist Journal
---
Check out the official trailer:
---
 Directed by 

 FPMT, Christina Lundberg
 Realeased

2007
 Running time

90 mins
 Language

English
OPEN TO ALL AT NO CHARGE (DONATIONS WELCOME)
No registration necessary. Door opens at 17:45, movie starts at 18:30. Feel free to bring snacks!